Western Tanzania is made up of unexplored and stunningly beautiful Katavi, Mahale Mountains, Gombe Stream, and Lake Tanganyika – please click on the links to see our recommended camps and lodges in Western Tanzania, though all of our holidays are tailor-made and we can easily help you arrange anything you like.
Western Tanzania is uncharted terrain that is still largely undeveloped and still has some of Africa's largest herds of animals. It takes five hours to reach any part of Western Tanzania, but once there, the reward of beauty, wildlife, and unspoilt environment is unrivaled. With chimpanzee tracking in the Mahale Mountains and Gombe Stream National Parks, or avoiding vast herds of buffalo and elephant in Katavi National Park, tailor-made Tanzania has never been more distinctive.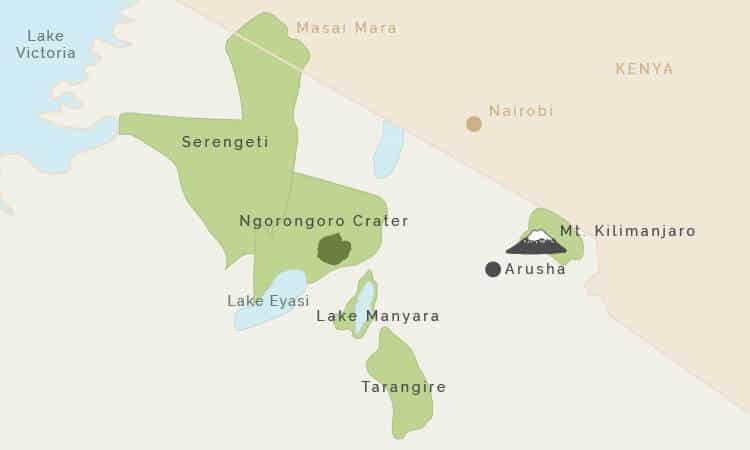 A safari in northern Tanzania should be on everyone's travel wish list. The Great Migration in the Serengeti National Park is one of the most stunning wildlife spectacles in the world, and a safari on the Ngorongoro Crater floor of the extinct volcano at Ngorongoro is unrivaled in terms of game viewing. Kilimanjaro, the world's highest freestanding mountain and possibly Africa's most difficult task, stands tall above it all. Away from the tourist traps, places like Tarangire National Park offer excellent wildlife watching but are generally neglected by their more well-known neighbors. Hadzabe tribes live in the Rift Valley Lakes of Eyasi and Natron, which also serve as breeding grounds for the world's largest flocks of flamingos. A Northern Tanzanian safari is considered by many to be the best of all safaris.
Tanzania's northern safari circuit is Africa's most well-known safari destination. The sheer concentration of Africa's big game in this area is amazing, with the world-famous Serengeti National Park and Ngorongoro Crater, as well as the lesser-known parks of Lake Manyara and Tarangire.
The Serengeti National Park and the Ngorongoro Crater are the focal points of most itineraries to this region, with the Serengeti's Wildebeest Migration and massive predator concentrations serving as the main draws, not to mention the Ngorongoro's big five experience. The area is also home to a number of cultures, including the Maasai and Hadzabe, and is one of the continent's most scenically striking and diverse regions.
Should you go on safari in Tanzania's north or south, and how long should you spend there? This is the most crucial and first decision you must make. The northern safari parks are quite different from those seen on the southern Tanzania safari, and each has its own set of benefits and drawbacks:
The parks in southern Tanzania are more remote, but with daily flights from Dar and no stopovers, they are easier to reach. The camps in the south offer better value for money, are more intimate, and offer a variety of activities such as walking, boating, and fly camping. Open-sided vehicles are used to see the game, which improves the viewing experience. Because the south favors a shorter safari and beach combination, it provides a quick, inexpensive, and extremely satisfying experience with few other guests.
The bulk of parks in the north, on the other hand, need closed-sided cars, do not allow walking (unless in select camps), or watercraft safaris, and are generally overcrowded and less "wild." The majority of camp and lodge alternatives are enormous and bland, but if your budget allows and you know what you're looking for, you can locate modest tented sites tucked away from the crowds. The big five, the Great Wildebeest Migration, and stunning landscape are the benefits in the north, but be aware of higher prices and poorer value for money in the low- to mid-range.